So you're looking for a karaoke machine for a child. I can say from experience that this is a favorite gift to many kids. It can also be educational as children watch the words they are singing be highlighted as they sing them. I know it can be a little confusing when trying to get information on the best choices. I'm here to help you out with this. Once we clear up a few facts your decision will become a lot easier.
This is NOT a karaoke machine review article. In 99% of those types of articles the author has absolutely no personal experience with the products they are reviewing and often giving praise to. The units listed on this page are here solely because they have received good to excellent consumer reviews and/or are among the best selling.
About Karaoke Music
There are many karaoke formats around as well as different types of karaoke discs. You've probably read about CDG, DVD, MIDI, NEO-G, SCDG, and VCD discs. I'm going to make things very simple for you right now by suggesting that you
focus solely on CDG karaoke
. The reasons for this is because CDG is by far the most popular karaoke song format, offers vastly more song titles than any other format, and the discs are widely available.
CDG is not a video format. The songs consist of background music with synchronized lyrics displayed against a solid color background. CDG discs can be purchased at department stores and music shops as well as online at stores like Ace Karaoke and Amazon. Songs in every genre, including children's songs, can be purchased on CDG discs.
All the karaoke machines discussed here will play CDG discs. You will see MP3+G mentioned occasionally. This is simply a compressed version of a karaoke CDG song much like an MP3 is a compressed version of a standard song. Some karaoke machines will play MP3+G files from a USB thumb drive and/or SD card. Songs in the the MP3+G format can be purchased as individual downloads from websites like TriceraSoft for example. There are also software programs that can create CDG discs from these downloads.
About Karaoke Machines
The term "karaoke machine" has been used to label any player or unit that plays karaoke music. This includes disc players, hard drive players, self contained systems, and handheld units. They all have their uses but in this article we'll stick to the type most suited for kids. That would be the
all-in-one
karaoke system. These are self contained and easily portable units. They typically include a CDG disc player, amplifier, speaker(s), microphone(s), and monitor. They are available in a variety of sizes.
For young children there are the small, light, colorful, units that are extremely easy to operate and offer few features other than play/stop buttons and volume controls. Most run on batteries and require very little adult supervision. Most lower priced models (under $90) will not have a monitor and are better suited for children who do not yet read. The ones with built in monitors will display the song lyrics. Some can be connected to a TV.
The units pictured below are ones I found at Amazon that have some good consumer reviews and at least a 3 star rating.

For older kids and teens, or adults for that matter, there are larger units with more features like digital key control, microphone effects, multiple discs type support, vocal scoring, remote control. etc.. Some will allow you to record and save your singing performance to an SD card and/or USB device. These are always a big hit at parties and other social functions.
The karaoke machines listed below are among the highest rated and best selling units available. My niece still loves the Karaoke USA GF829 that I got for her last year.
The Singing Machine STVG350 features a top loading CDG disc player and built in 3.5 inch color LCD monitor. This is an entry level machine so don't expect great sound or a super sturdy case. Priced at about $100.


Feature List:
2 microphone inputs with volume control. (comes with one microphone)
Echo and Balance controls.
Input for MP3 player or iPod.
Audio & Video outputs for connecting to a sound system and TV.
RCA cables included.
The Karaoke USA GF829 plays CDG, DVD, and MP3+G discs. It has a built in 7 inch color monitor, comes with two microphones and 300 karaoke songs. There is a recording function that lets you record and play back your singing performance or save it to a USB device or SD card. This is a very nice machine for the price. Kids may have trouble keeping their parents from "borrowing" it. Priced at about $160.


Feature List:
15 watt power output.
Remote Control
Microphone holders.
SD card slot and USB port.
Balance and echo controls.
Digital key control.
Audio and Video outputs.
AC adapter, RCA cable, and MP3 player cable included.
The Akai KS-808 Pedestal System is a front loading CDG player with a built in 7 inch color monitor and can also be connected to a TV. You may record your singing performance for playback or saving to a USB device. Priced at about $190.


Feature List:
Master volume control.
Microphone volume control.
USB port.
Balance and echo controls.
Digital key control.
Audio and Video outputs.
AC adapter and RCA cable included.
The RSQ ROKBOX is a big step up in power and performance. With a maximum output of 200 watts this machine has the power to cover a crowded room. Older kids and teens will be the hit of any party they bring this unit to. Easily connects no most TVs. Record your singing performance for playback or saving to an SD Card or USB device. A Vocal scoring feature to rate your singing. Can double as a guitar amplifier or stand alone PA system. Does not come with microphones. Priced at about $400.


Feature List:
Plays CD, CDG, MP3+G.
Two microphone inputs.
Record performance to SD card or USB device.
Balance and echo controls.
15 step Digital Key Control.
Vocal scoring.
External speaker connections.
Remote control.
Handheld Karaoke Machines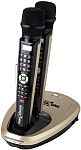 These are basically microphones that have an integrated digital karaoke player that plays songs from a "chip" inserted into the unit. The song chips can contain thousands of songs and are interchangeable. They are easily connected to a TV or entertainment center. The music is not the quality as commercial CDG discs nor are there near as many song titles available. I suppose the compactness, portability, and cheap music are the biggest selling points of handheld systems.