Karaoke Players

There are basically two types of karaoke players. These are disc players and hard drive players. Modern karaoke disc players are "multi-format" players which means that they support several different types of discs. All will play CD+G discs and standard CDs, most will also play DVD discs, and many will play other disc types as well.

Hard drive players are disc players that also contain a hard drive. With these you can import the songs from karaoke discs onto the hard drive and never need to load the disc again. Some hard drive players can be controlled with a touchscreen monitor.

Both of these players will have features like microphone inputs and controls as well as key change. Other features may include performance recording, playing karaoke songs from a USB device, and CD+G to MP3+G conversion. They are designed to connected to an entertainment center just like a standard DVD player. In fact, some have Blu-ray support can be used to replace a DVD player.

Below are some popular players.

Acesonic BDK-2000 Blu-Ray Disc Multimedia Karaoke Player 50 Free Discs
.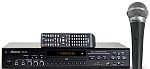 Acesonic DGX-218 HDMI Multi-Format Karaoke Player with 4X CDG to MP3G Converter, Digital Recording

API DVD-330 DVD / CD+G / MP3 Karaoke Player

Acesonic KOD-BD2000 Single Hard Drive Multimedia Karaoke Player

RSQ HD-38 1TB Hard Drive Karaoke Player with Ripping from USB/SD/CD