Karaoke Amplifiers and Mixers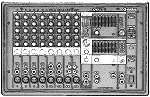 Why a Mixer?
Almost daily someone will contact me with the question of whether or not a
mixer
is necessary. They have a karaoke machine with microphone inputs and wonder why they don't sound anywhere near as good as they do when they sing on a professional system. The answer is that the karaoke machines have little or no microphone adjustments or effects. When you go out to sing on a professional system, the microphones are run through a mixer and the KJ has tuned the sound of the microphones by adjusting the various tone settings and adding effects (basically reverb in most cases) to make the singers sound their best. You cannot sound your best when singing through a "dry" microphone. A mixer will also have balanced XLR cable inputs. These are three pronged connections that help eliminate interference caused by long microphone cables. They also provide "phantom" power to condenser microphones which require a power source. A mixer is much more than simply a device to mix the music and vocals together.
When choosing a mixer make sure to opt for one that has built in effects.
Most likely the mixer you will use with your home system will be the analog type. It will probably have analog RCA stereo inputs for connecting a player. All karaoke machines will offer RCA stereo outputs and the standard method of connecting to a mixer is with a stereo RCA cable. Some mixers will also offer a digital USB input. This is the type of mixer you should opt for if you will be using a computer as the player. While you could use a analog adapter cable to connect the computer to the mixer, a USB connection would be preferred basically because it is superior to the unbalanced analog connection. USB is also bidirectional which means you can send the mixed audio signal back to the computer for recording.
Amplifier
The sole job of the
amplifier
is to power passive (non-powered) speakers. The matching of amplifier power output to speaker power handling capability can seem confusing. Of course you can get very technical with this subject if you want but I prefer to keep things simple. When determining a speaker's power handling capability look for the "
program
" rating. This is the amount of power (in watts) that the speaker can handle continuously. As a rule of thumb you will want an amplifier that can output at least
twice
the program power rating of the speaker. So if you have a speaker with a program rating of 300 watts your amplifier should have a minimum output of 600 watts. For a pair of stereo speakers, rated at 300 watts program each, you would need an amplifier that with an output of at least 600 watts
per channel
. The extra amplifier power is referred to as "headroom". Speakers can handle transient peaks above their program power rating. The extra amplifier power will help assure that only clean, undistorted power gets to your speakers.
Powered Mixer
As the name suggests,
powered mixers
are a mixer and amplifier incorporated into a single unit. Very compact and available with many features, including effects, these are quite suitable for your home karaoke system. They come in a variety of power output ranges. Many professional karaoke hosts prefer these.
Alternatives
You can eliminate the entire process of matching the amplifier to the speakers by opting for powered speakers. See the
Karaoke Speakers
page for more on this. There are PA system packages like the
Behringer Europort
,
Fender Passport
, and
Yamaha STAGEPAS
series that take the guesswork out of matching up components.
Be sure to visit the Put Your Karaoke System Together page.
Article by Richard Wise. Follow me on