Gifts For Singers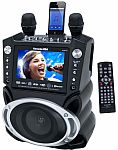 Most of us have someone on our holiday gift list who likes to sing. Karaoke is perfect for these people. For those of you who are not familiar with karaoke, it is basically audio song tracks created with real instruments by professional session musicians.The music is recorded in the style of the original artist. Background singers and harmonizing vocals are usually included if they are present in the original song. The song lyrics are displayed on a monitor or TV screen and are synchronized to the music so the singer knows exactly when to sing them. The only thing missing is the lead singer.

There are many karaoke related gifts that any singer would love. Karaoke music, karaoke disc and hard drive players, all-in-one systems, microphones, other karaoke system components, and even karaoke software. For those unfamiliar with karaoke selecting a gift may be challenging. This gift buying guide was created to provide you with the information you will need to make an informed decision.

The guide is broken into categories accessed with the menu above. I recommend that you start with the karaoke music category as it may aid you in making decisions on other items. If you are unable to find the information you need here please feel free to contact us.
Best Sellers Last Holiday Season